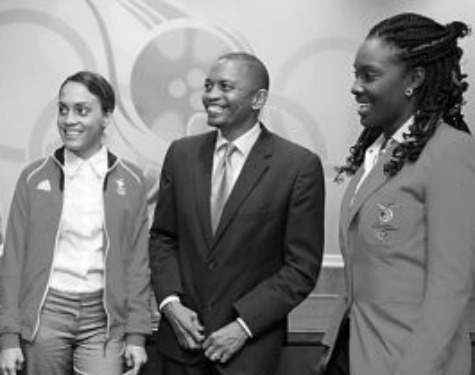 Port. of. Spain- Friday 8th August.
The Adidas outfitted Trinidad and Tobago (TTO) Youth Olympic team will leave for Nanjing, China on Sunday.
Leading the  Team TTO delegation is chef de mission Kwanieze John, T&T's young ambassador at the inaugural Youth Olympic Games (YOG) held in Singapore in 2010.
25 year old John, a resident of St Barbs, Belmont, is  a national women's rugby player and the first active athlete to be selected as  chef de mission by the Trinidad and Tobago Olympic Committee(TTOC ).
The  final year  University of Trinidad and Tobago( UTT) sport for development student said the athletes are  motivated to do their best.
"Its a huge honour for the entire delegation . We are looking forward to doing our best for Trinidad and Tobago."
World Junior silver medallist Dylan Carter is included in the 11 athlete Trinidad and Tobago Youth Olympic team that will participate in Nanjing- August 16 to 28 .
Carter, who placed fifth  in the men's 100 metres freestyle at the recently concluded Glasgow Commonwealth Games, is one of three swimmers the others  are  David Mc Leod and Johnya Ferdinand.
Athletics - Jeminise Parris (100m Hurdles), Kasheif King (400m) and Akanni Hilltop (200m), Chelsea James (Shot Put) and Andwuelle Wright (Long Jump).
Malika Davidson and Chelsi Ward will represent T&T in beach volleyball. And Abigail Affoo is the  representative in sailing.
John thanked  TTOC corporate partners Scotia Bank, Guardian Group, Bptt, Lisa communications ,Adidas and the respective national sport organisations  for their support and help .
" Its not an easy or simple undertaking. The guidance , mentoring and support is appreciated. Jeannette, the young athletes - we treasure the confidence and trust placed in us. Its an honour and an experience  we will cherish. We have  to be positive role models for young people here in Trinidad and Tobago " said John.
TTO  Nanjing 2014 Youth Olympic  team:
Chef de mission-Kwanieze John
Young Ambassador -Jeannette Small
Swimming
Manager /head coach ​ Mark Pouchet
Dylan Carter -50m freestyle, 100m freestyle, 50m butterfly, 50m back stroke Johnya Ferdinand - 50 m free David McLeod - 50m backstroke, 100m backstroke.
Athletics
Manager/head
coach - Nadine Hamid​
Jeminise Parris - 100m Hurdles
Kasheif King- 400m
Akanni Hislop - 200m
Chelsea James - Shot Put
Andwuelle Wright - Long Jump​
Beach Volleyball
Manager : Jason Dennis
Coach: Sean Morrison
Malika Davidson
Chelsi Ward
Sailing
Coach/Manager: Stephen Affoo
Abigail Affoo
Medical Team - Dr. Israel Dowlat, June Durham - massage therapist.