With the one-year countdown to the 2020 Tokyo Olympic Games officially underway, the Trinidad and Tobago Olympic Committee, (TTOC) has announced that TTO athletes will benefit from a pre-games training camp at the Japan Athlete Training Center Osumi, in Osaki Town, Kagoshima Prefecture, as part of Japan's Host Town Initiative.
The Host Town Initiative aims to promote human, economic and cultural exchange between local authorities and participating countries at the Tokyo 2020 Olympic and Paralympic Games. And this initiative is expected to contribute to making Japan a "sports nation", while promoting inbound tourism, globalization and revitalization of local areas.
"Since 2012, the TTOC has placed great importance on its pre-games training camps and we have taken particular care to ensure that the highest quality environment is available to Team TTO to help them achieve podium objectives. We are very happy to have gotten this opportunity from Japan to give our athletes that extra preparation. As far as I know, only TTO and Taiwan will have access to this particular training camp," said TTOC president, Brian Lewis.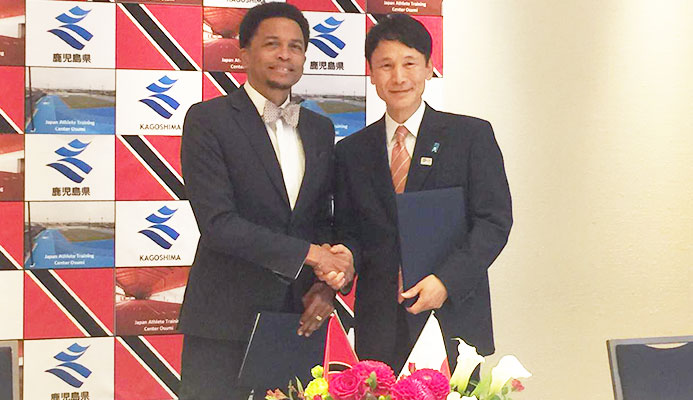 Earlier this month, Lewis visited Tokyo to attend the official signing ceremony for the Host Town Initiative, which was held at the Zenkoku Choson Kaikan hotel. Also attending were Governor of Kagoshima Prefecture, Satoshi Mitazono, Mayor of Osaka Town, Yasuhiro Higashi, Mayor of Nakatosa town, Hiromitsu Ikeda, and former Japan Ambassador to Trinidad and Tobago, Mitsuhiko Okada.
Governor Prefecture stated that it was a great honour for Japan to welcome Trinidad and Tobago's olympians to its training center, and said he wished team TTO well. "Just as the team won a gold medal at the IAAF World Relay in Yokohama, in May, we hope the team will also win a gold medal in Tokyo 2020 Games."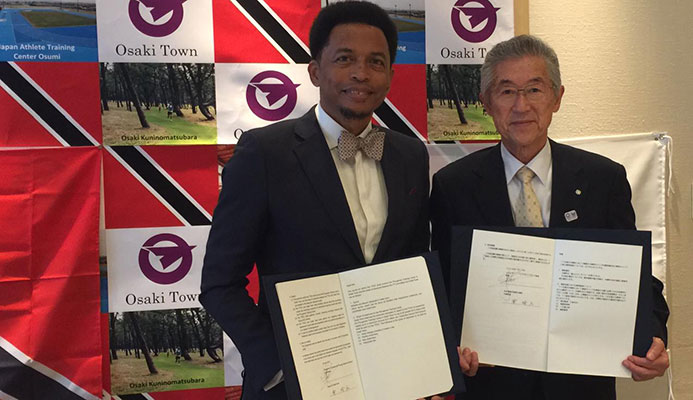 Mayor Higashi, echoed similar views, noting that he was looking forward to forming a long-lasting friendship with the TTOC, as Trinidad and Tobago and Japan have always enjoyed a friendly relationship. He also gave the assurance that our athletes will be warmly welcomed when they land in Japan and that conditions at the camp will be of the highest standards.
Lewis added that the Tokyo Olympic Games "will be a special Games" since the country's first Olympic medals as an independent nation were won in Tokyo at the 1964 Olympic Games, with medals coming from Wendell Mottley (silver in the 400m and bronze in 4x400m), Edwin Roberts (bronze in 200m and bronze in 4x400m), Kent Bernard (bronze in 4x400m), Clifton Betrand ((bronze in 4x400m), and Edwin Skinner (bronze in 4x400m).
The Games, to be held from July 24 - August 9, will see disciplines such as surfing, sport climbing, karate and skateboarding make their Olympic debuts, while baseball and softball will return after being absent the past two Games.
CHERISSE MOE