Today is a rest day for Alpine Skier Abigail Vieira, before returning to competition tomorrow in the Slalom at Les Diablerets. We take the opportunity to take a look at the rest of her team.
When Abby qualified as the first ever Youth Olympian from Trinidad & Tobago, as well as the first Alpine skier for her country in any Olympic Event, a team had to be assembled to support her Olympic Campaign.
In true T&T Style, family came first, surrounded by friends, and friends of friends, to put together a small, improvised, but highly experienced and competent support team.
In the end, this small rag-tag group was assembled around Abigail Vieira to give her the best support possible, not only to perform but also to maximize the Games experience for Abby, the TTOC, and Trinidad & Tobago Snow Sports. The team boasts 15 Olympic Games worth of experience between them, be it as former athletes, coaches, or organizers. In addition, there is a total of over 100 years of experience in sports at the highest level amongst the team members. 
A look at Team TTO at the Lausanne 2020 Youth Olympic Games:
Richard Vieira, Chef de Mission for Trinidad & Tobago Olympic Committee, Father of Abigail Vieira, Ski tuner and Equipment technician: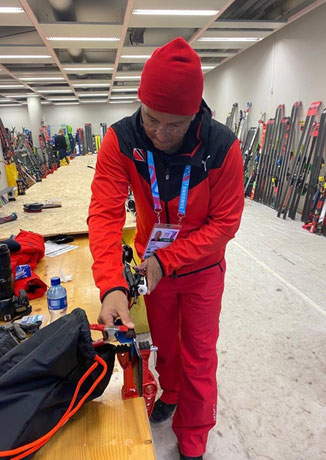 Richard is a native of Trinidad & Tobago. He currently lives in Boston, Massachusetts, USA. By profession he is an investment banker.
Besides being Chef de Mission, Richard is also the equipment man for skier Abigail Vieira, tuning skis at night to prepare Abby's equipment for her races.  "I sort of became chef de mission by default. Nobody else stepped up for the position so I was sort of chosen. In the beginning it was a very steep learning curve. I knew nothing about NOC's or IF's or the Games.
His best moments of the Games thus far:  "Having all of us together here, be it celebrating after Abby's runs or be it at our team dinners at the athletes' village".
"The Games are such a unique experience. Where else can I walk 100 feet and meet people from 18 different nations on my way? At lunch we were talking to people from the Republic of Georgia, the other day we talked to people from the Kosovo… we had never even met anyone from the Kosovo before."
Lori Ford, Team TTO Lausanne 2020 Head Coach:
Lori Ford is from the USA. She is the U18 Coach at Holderness High School in New Hampshire. Lori comes from a big ski racing family, and has accompanied her daughter Julia Ford, whom she coached as well, to the Olympic Games in Sochi 2014 where she competed as an Alpine Skier.  Lori has 30 years of experience coaching skiers of all levels, ranging from U12 kids to Senior Olympians.  Lori has been part of Abigail's coaching staff for 4 years at Holderness High School. The school has also been really supportive of Abby's (and Lori's) mission to the Games.
 "When Richard first asked me if I wanted to go (as a coach to Lausanne 2020), I was very honoured, and I said… OF COURSE! I was really happy to come. Richard asked Abby if she would want me as a coach and she said she would be delighted, so that was a great honour.

"I have been to a lot of big events so I have a bit of experience with how it works."
Her best moment of the Games thus far: "Abby finishing her first Olympic Race: the super G. We were all high-fiving and cheering, among the coaches up at the start."
On how the Youth Olympics compare to her experience at the Olympics: "I have been amazed how everything is so refreshing and genuine! It's really what the Olympics are fundamentally about: the real values of the Olympic Games"
Mirella Arnhold, Team TTO Lausanne 2020 Assistant Coach: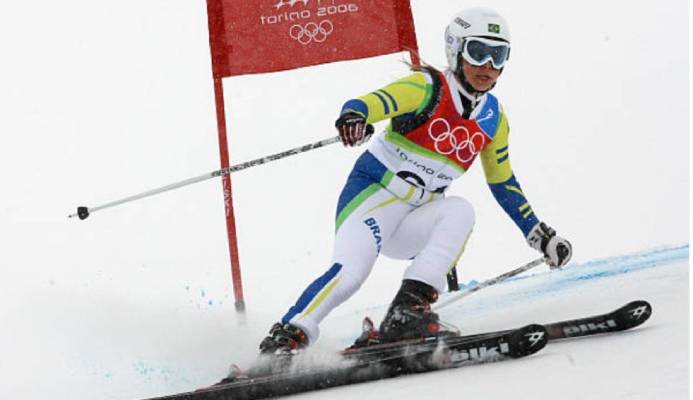 Mirella is a Brazilian Alpine Skier. She competed at the Salt Lake 2002 and Torino 2006 Olympic Winter Games. She was the 1st ever female athlete to qualify for the Winter Olympic Games for Brazil.
Mirella has a Masters Degree in Sports Management (FIFA Master) and now works as a sports & event professional, working among other clients, for OBS at the Olympic Games.
"I was really honoured to be asked to become a part of TeamTTO, and to support an athlete who is competing for the 1st time in an Olympic Games. Just like me, she is the first female from her country to participate in an edition of the Games. She will open a lot of doors for future generations. Before coming here, I hoped my presence here could transfer a lot of knowledge and experience to Abby and the team, and hopefully also inspire her to an extent, since I've been in her shoes before."
Her best Moment of the Games so far: "The best moments are when we are together and exchange experiences, and emotions. The best thing in life are the people you meet, and to be together at such an incredible event with such incredible people is the greatest part of the Games".

On Abby as a young athlete: "Abby surprised me with her confidence and independence and her focus. She is always ready to go, ready to learn, to improve, and to do better. This openness and humility is key for an athlete to keep developing and to shine" "For me personally it has been really emotional to see a new generation competing in our sport. 18 years ago I was competing in my 1st Olympic Games, when I was 18 years old, and that was actually the year Abby was born (Salt Lake Olympics, 2002). Abby is a real legacy in my sport for the smaller nations (without a great winter sports tradition). I have been dreaming of finding a young female athlete like her to support: an athlete who really makes me proud!"
Nick Lau, General Secretary, T&T Snowsports Federation: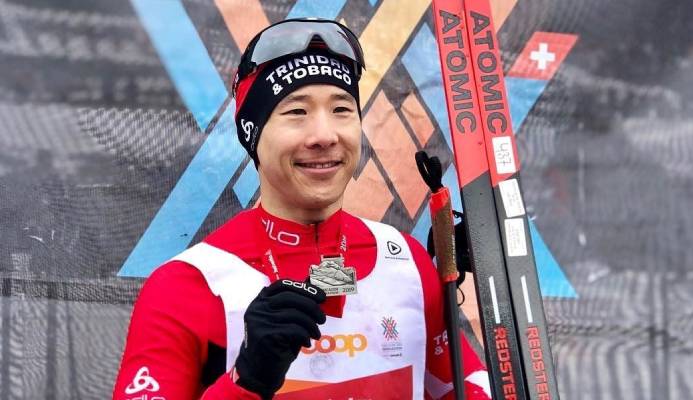 Nick was born in Trindad & Tobago, grew up in Dallas, Texas, and is a Harvard Alumn, who also holds a
Masters Degree in Sports Management (FIFA Master). Nick worked at the FIFA in the
Competitions as well as the
Tournaments & Events Division for 12 years, and is now a freelancer in sports and events. Since 2019, Nick is the General Secretary of the TTSF. He was instrumental in achieving Abby's inclusion in Team TTO and her registration for the Youth Olympic Games, as well as in the assembly of her team for Lausanne 2020. Nick is a winter sports athlete himself, competing at international level in Nordic Skiing for Trinidad & Tobago. 
"I was extremely excited when I found out Abby would qualify for the Games. It would be not only a chance to support her as an athlete but it would also be an amazing opportunity for the country and for TTSF".
His best moments of the Games thus far: "Actually having the team come together in person. We are all dispersed all over the world and to meet up and connect in person was very special".  "Watching the T & T flag come out at the opening ceremony, carried by Abby, was such a special moment".
"Abby's first race was another amazing moment. Looking forward to her competing is one thing, but actually seeing her finish her first Olympic race was amazing, especially since so many athletes didn't finish that race".
Veronika Muehlhofer, NOC Press Attaché 
Veronika was born in Austria, and grew up in Switzerland. She went to Stanford University in California, USA. Veronika competed in Alpine Skiing for Stanford, and played rugby internationally for 20 years all over the world, and currently serves on the council of World Rugby. Veronika also has a Masters Degree in Sports Management (FIFA Master) and works as a consultant in sports & event management. Lausanne 2020 are her 6th Olympic Games, having worked at 5 previous editions of the Olympic Summer and / or Winter Games, in various roles including Competition Management and Media Operations. Tokyo 2020 will be her next Olympic Games.
"The Youth Olympic Games have really surprised me. It's rare to still be surprised once you've done 6 Olympic Games… but the YOG have been really incredible! They are like a smaller, more relaxed, more wide-eyed, idealistic, amazing version of the Games". 
On being on Team TTO: "It is a great honour. It is a bit different from the roles I normally hold, but I can definitely say this is the most fun I've ever had at any Olympic Games."
"The way the Vieira Family, and the TTO staff, and their entourage from Trinidad & Tobago has welcomed me onto their team and into their family has really been touching."
Her best moments of the Games thus far: "there have been a lot of great moments but one definite goosebump moment was after the first run of the Giant Slalom on Jan 12th, Abby was welcomed at the finish by great cheers of the crowd, and welcomed into the arms of her family and of a whole entourage of Trinidadians and non-Trinidadians who had crowded around to embrace the odd, unexpected, unconventional first-time Olympian from Trinidad. I always say It's the people that make the Games. It has never been truer than at these Games, where we have been embraced by absolutely everyone".
"It has been amazing how the Olympic World, the media, the crowd, the volunteers, and the entire YOG community has welcome Trinidad & Tobago to the Games with open arms and open hearts."
On Abigail Vieira: "The way she has been able to inspire a nation, as well as a young generation, has been incredible. The day after her first race she was on the front page of every newspaper back in T & T."
Alison Vieira, Abby's mother and Support Team
Alison was born in Trinidad & Tobago, and lives in Boston. Alison is a certified Montessory Teacher, teaching kids between 2 and 6 years of age at Children's Own School in Winchester, MA, USA.
When she first realized the family was going to the Youth lympic Games: "I could not believe it! Until recently I didn't even know the Youth Olympics existed and suddenly she qualified and we were going to them."
"I love traveling, it's a big hobby of mine… as well as cooking and theatre".
Her best moments of the Games thus far: "Just being around so many international athletes, that's a real highlight for me. Being around this international atmosphere you realize how much bigger sport is, than our experience we have where we live in the USA, training and skiing in New Hampshire."
On the reaction by the public: "It's been amazing, the echo we've been getting. It's badly needed in Trinidad & Tobago: something to cheer for. It's building on our national pride, this came at a great time, in terms of some of the challenges we are facing back at home: people really needed something positive to talk about. We need more of that in Trinidad & Tobago."
Ria Vieira, Sister of Abby, Support Staff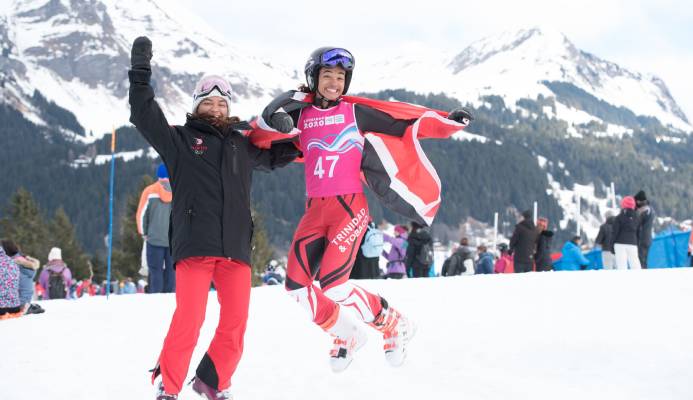 Ria Vieira is Abby's 19 year Old sister. She is a freshmen at the University of Pennsylvania. She was at Lausanne 2020 as mental coach and support staff for Abby. Due to university obligations she had to go back to the USA early.