Athletes Overcome Against Odds
… Lewis praises "game changers'' at TTOC's first virtual sports awards
By Cherisse Moe
Top athletes, swimmer Dylan Carter, and cyclist Teniel Campbell, who copped this year's Trinidad and Tobago Olympic Committee's (TTOC) coveted Sportsman and Sportswoman of the Year awards, respectively, admit that they had to overcome many hurdles, in what can be described as the most tumultuous year of their sporting careers, due to the Covid-19 global pandemic, which has changed every aspect of life, including sport.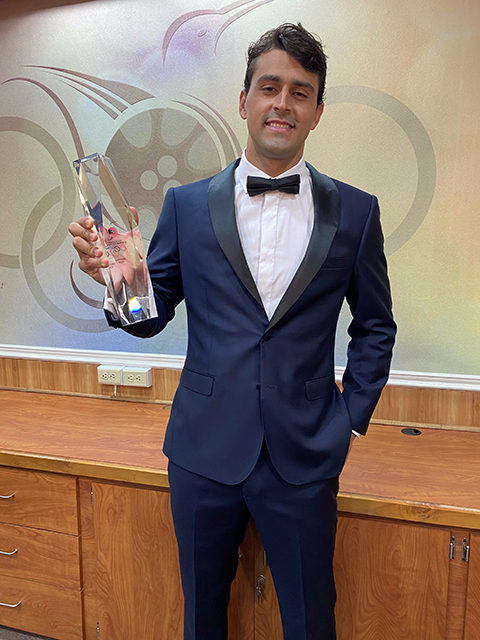 The athletes spoke in an interview following the December 29 gala, which was held virtually for the first time in its 26 years.
Both Carter and Campbell said 2020 was all about resilience - which was also the theme of the evening's awards.
"2020 provided unique challenges, no doubt. It's been a challenging year for all. I took this year in stride and that attributed to my success. I think a lot of work was done earlier this year towards the Olympics so the results I saw were as a result of just keeping my head in the game throughout the challenging middle of the year. I'm feeling very proud and would like to echo the theme of the awards which was resilience," said Carter, 24, a Commonwealth Games silver medalist, who splashed it out with the world's best, at the International Swimming League in November, ending his 2020 season with an impressive fourth place finish.
Campbell, 23, who won the top female award for the second consecutive year, echoed similar sentiments.
"It was a strange year and I am lucky that there was a properly revised racing calendar for my sporting discipline. For some athletes there was not," asserted Campbell, who is currently on a two-year contract with Australian pro cycling team, Mitchelton-Scott, and who also created national history as the first female cyclist to ever qualify for an Olympic Games.
"We all deserve to be rewarded for our discipline, determination, tenacity and enthusiasm to keep going during the challenges we each faced this year. Season 2021 is two sleeps away. Don't let anyone or anything dull your sparkle. Let's look ahead with positivity and keep working hard to achieve all of our goals."
The nation's athletes and the TTOC came in for high praise from President of the Republic of Trinidad and Tobago, Paula-Mae Weekes, who said, "The delays, cancellations and all-round uncertainty have no doubt taken a toll on the physical and mental well-being of the athletes, who having prepared long and hard for this year's games, were left in a quandary on the future of their craft, but the comfort, support and guidance that they desperately need at this time, reside within the halls of the TTOC."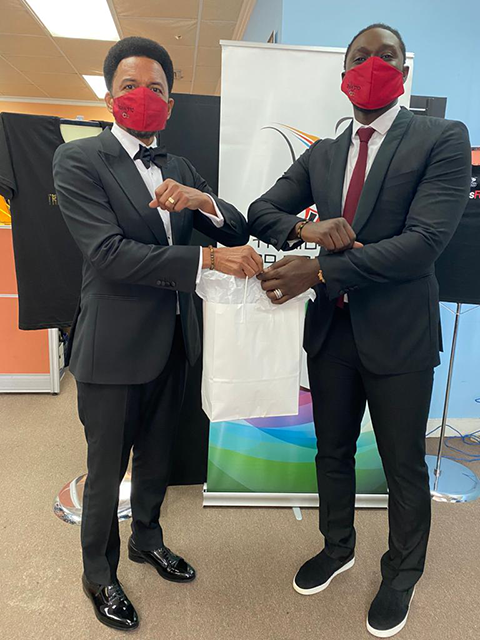 Delivering the evening's feature address was Kenwyne Jones, who drew on his past experiences during his professional football career to inspire the athletes to be resilient and to always be the best version of themselves. The 2006 World Cup footballer and former national football captain told us in an interview that adversity builds character.
"Continue to work hard so that you can be ready for the opportunities that are coming your way. Obstacles are part of the process, but they're also made to get over."
Jones' former St Anthony's College coach, the legendary, Nigel "Grovy" Grosvenor, was awarded the Alexander B. Chapman Award (posthumously). Collecting the prestigious accolade was his daughter Qia Grosvenor, who said her father would have been "very proud and honoured" to receive the award, noting that his lifelong passion was sport.
"For over 35 years, he dedicated his time and efforts to advancing the sport of football as a coach and mentor to countless men of the nation. For many young men, he transcended being a coach and mentor to being a father figure as he made a valuable impact on their lives. I saw this passion and dedication to the sport from a personal side. He would miss family events when they clashed with football matches; there were many times when his players would visit our home just to come for advice from him; and many occasions where parents would call him to speak to their children when they were misbehaving. He made a positive impact on many, so much so, that upon his unfortunate death, he was deemed a legend by many persons."
TTOC President, Brian Lewis, reiterated the TTOC's commitment to being game-changers and stressed that the well being of his athletes remains top priority. "Our athletes represent the best of us and it is always my view that they should be given the support and resources needed to succeed. This year, of course, was a very difficult one for them as we battled covid-19 which changed life as we knew it, but one of the things sport teaches us is the need to focus on what you can control. I encourage our athletes, who I call game-changers, to continue to work hard and stay positive as this too shall pass."
Full list of 2020 awardees
Sportsman of the year – Dylan Carter – Swimming
Sportswoman of the year – Teniel Campbell – Cycling
Future is Female – Samantha Wallace – Netball
Junior Sportsman of the year – Nikolai Blackman - Swimming
Junior Sportswoman of the year & People's Choice – Abigail Vieira – Skiing
Sports Personality of the year – Dr Felice Aisha Chow – Rowing
Alexander B. Chapman Award – Nigel Grosvenor (posthumously) - Coach
--
Cherisse Moe
Senior Freelance Journalist