COMMITTED TO TEAM TTO
TTOC Marathon Walk reflects athletes' dedication to their dreams
TTOC PRESIDENT Brian Lewis said the TTOC's determination to continue their Marathon Walk reflects the commitment of the TTO athletes to their and the country's sporting dreams. Established in 1946-The marathon walk also highlighted the start of the national Olympic committee's 75th year celebrations.
Lewis and a small group of supporters successfully undertook to complete the 26.2 mile course on the final day of the Trinidad and Tobago International Marathon (TTIM) Virtual Reality Marathon & Ultra Challenge that ran from January 1-24.
But Lewis spearheaded the Marathon Walk from its traditional starting point at St Mary's Junction in Freeport, Couva all the way to the traditional finish in front of Whitehall at the Queen's Park Savannah.
After crediting the TTIM committee chaired by Diane Henderson - also a TTOC vice president - for persisting in staging the event, Lewis said the TTOC decided to pursue their traditional yearly kick-start to the #10golds24 Athletes Welfare and Preparation fund-raiser because of its symbolism to TTO sportsmen and sportswomen.
"It would have been easy to say because of the COVID-19 and the challenges, 'Nah, leh we not do it', Lewis, also president of the Caribbean Association of National Olympic Committees (CANOC), said, "But the athletes are out there fighting it. What message and signal would that have sent ? What message it would have sent about the TTOC 's commitment to the athletes and the athletes welfare fund and everything? We wanted to send a positive message, that COVID-19 or no COVID-19, life goes on. The commitment to the (TTO) ) athletes, the commitment to raising funds remain."
Lewis added that the TTOC's participation in the Marathon, its seventh straight year doing so, also carried a broader message that: " we have to find ways during the COVID-19 guidelines, protocols and regulations to continue to have physical activity and sporting activity."
Lewis and his group followed such health guidelines throughout the 26.2 mile trek.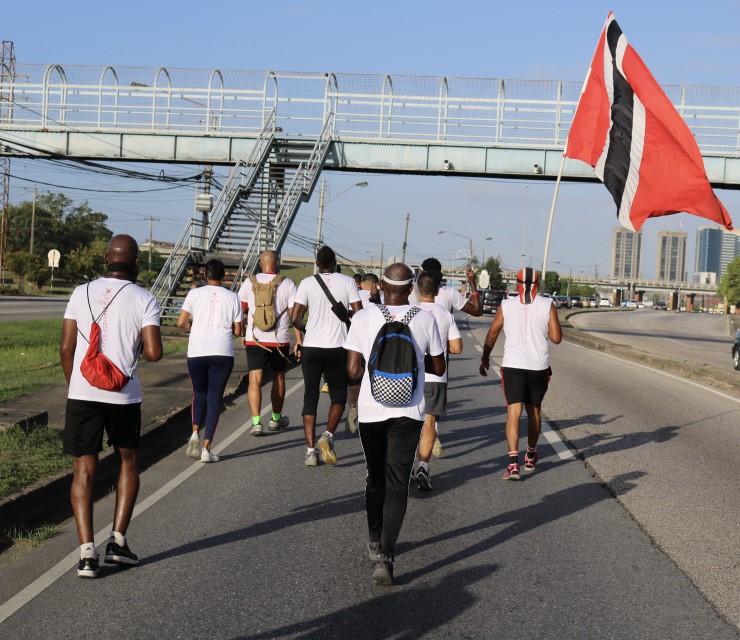 Among the participants in the TTOC Marathon Walk were Anton Lafond, TTOC treasurer Curtis Nero , President and Chief Executive Officer, Republic Financial Holdings Limited and Managing Director, Republic Bank Limited Nigel Baptiste and his brother popular sports commentator/broadcaster Andre Baptiste, Minister of Agriculture, Land and Fisheries Senator Clarence Rambharat, outgoing THA secretary of sport Jomo Pitt, councillor for Kelly Village/Warrenville Samuel Sankar, former Strike Squad skipper and current President of TT Super League, Clayton Morris. It also included Futsal Association of TT president Geoffrey Edwards, Caribbean Airlines (CAL) captain Andy Cheekes, former sports broadcasters Roger Sant , Robert Dumas, Biana Edwards, flagman Joey Richardson and his crew, Ramon Sambrano, Mcdonald Lucas , Bertram Smart, Keith Lashley, Christain Hannays , Makan Hislop , Devon Leacock ,Frankie Skeete ,Daniel Cyrus , Daneeka Forte and Maxine Isaac. Fine Line Fight Factory owner and boxing promoter Bharat Ramoutar , Nicholas Persad and former national boxer Ria Ramnarine also lent support during the journey.
Lewis also extended thanks to the Commissioner of Police (CoP) Gary Griffith and Senior Superintendent of the Trinidad and Tobago Police Service Traffic and Highway Patrol Branch Wayne Mystar and his team for providing support along the route.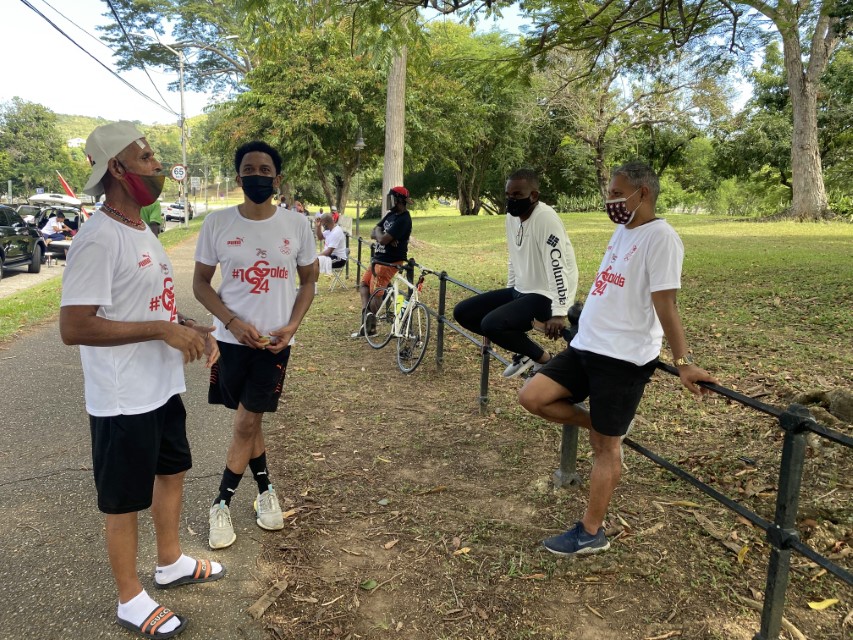 He also praised his support team led by TTOC senior administrative officer and executive assistant to the TTOC president Lovie Santana and TTOC athlete services and programme project officer Rheeza Grant, also a national beach volleyball player.
Others who provided support were Melanie Gulston (TTOC digital media), Mark Griffith, Anthony Loregnard, Derek Ashby (Team TTO massage therapist), Declon Maurice, Robert O'Connell, June Durham (councillor for Woodbrook), Ashell Wadell (chair, Woodbrook Community Council) and Francis William-Smith (TTIM committee member).